Highlights
668 L : Good for large families
Inverter Linear Compressor
Frost Free : Auto fridge defrost to stop ice-build up
Description
Keep your fruits and vegetables fresh in this fridge from LG. Features, such as Hygiene Fresh+, Multi Air Flow Cooling and Multi Digital Sensors, ensure that your food remains fresh for long. The Smart Diagnosis feature tells you what is wrong with this appliance, quickly and precisely.
Product Description
Enjoy fresh and healthy food at all times with this fridge from LG that comes with features, such as Hygiene Fresh+, Multi Air flow Cooling and Multi Digital Sensors. The Smart Diagnosis feature lets you know what is wrong with your fridge, quickly and accurately.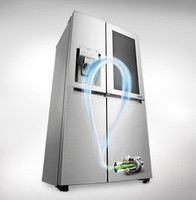 Inverter Linear Compressor
With this compressor, this refrigerator saves energy, reduces noise and is more durable.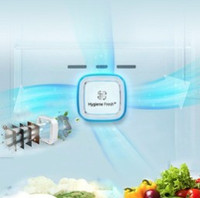 Hygiene Fresh+
The 5-step Antibacterial deodorisation eliminates bacteria up to 99.9999%, and minimises bad odours in the fridge.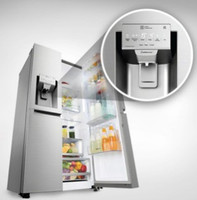 Ice and Water Dispenser
The newly designed Dispenser Display not only adds a touch of elegance to the appliance, but it also makes it convenient for you to dispense ice and water.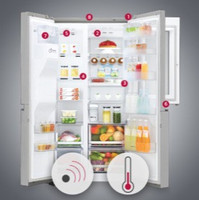 Multi Digital Sensors
These digital sensors monitor and respond to warm food and open doors, instantly, to keep the interior temperature at an optimum level.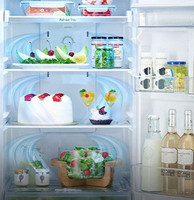 Multi Air flow Cooling
This fridge comes with cooling air vents that distribute and circulate cool air to every corner of the fridge, thereby ensuring uniform and proper cooling.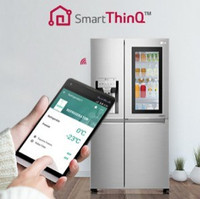 SmartThinQ
With this feature, you can control the features of this appliance from anywhere.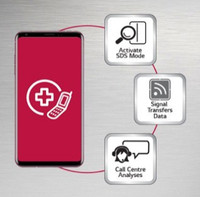 Smart Diagnosis
This feature quickly and accurately diagnoses and solves any issues associated with the fridge.