Product Description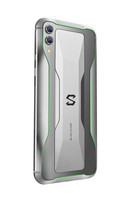 Powerful Processor
The Black Shark 2 comes features the Snapdragon 855, a beast of a processor, 12 GB of RAM and a storage capacity of 256 GB. Get ready for a lagless and fluid gaming experience.
Direct Touch Liquid Cooling 3.0
Featuring a direct touch multiplayer liquid cooling system with full coverage cooling, an oversized cooling plate which covers all the major components, the Black Shark 2 keeps your phone cool by reducing the core temperature by up to 14-degrees Celsius. With the same thermal technology used in high-end PC gaming rigs, this smartphone takes liquid cooling technology to the next level.
Ludicrous Mode
Apart from providing an enhanced gaming performance with powerful hardware and optimised software, the Black Shark 2 also lets you take your gaming to the next level with the Ludicrous Mode. Are you all set to enjoy a smooth gaming experience with buttery-smooth framerates.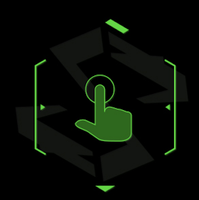 Low Latency Touch
It features a response rate of up to 240 Hz and a response time of just 43.5 ms. This provides you with fast inputs that give you the competitive edge you need in action games and shooters.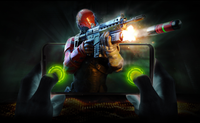 Master Touch
With the Black Shark 2's innovative pressure-sensitive display technology, this feature lets you set a custom touch zone and trigger multiple on-screen actions with the use of just your two thumbs. You can now control complex button layouts and improve your K/D ratio, increasing your chances of victory.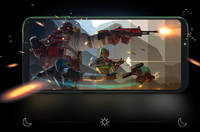 TrueView Multi-adaptive Display
The Black Shark 2 features a 16.23-cm (6.39) TrueView Display with HDR which produces realistic, natural and accurate colours. With Black Shark Gaming AI optimising the brightness and colour temperature according to the ambient light around you, you are provided with a comfortable visual experience even for a gaming marathon.
Gaming Light
It features dual RGB strips which sync with in-game effects and produce over 16.8 million colours, providing you with an immersive gaming and entertainment experience.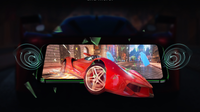 Dynamic Audio
Along with its dual front-facing speakers, the Black Shark 2 also comes with two noise-cancelling microphones which provide clear in-game voice chat. Also, the audio for games, movies, and music is automatically detected and optimised by the Black Shark Gaming AI technology.
Vibration Sense
Featuring a powerful haptic motor, the Black Shark 2 lets you feel every shot, drop, and frag, providing customised feedback for a more immersive gaming experience.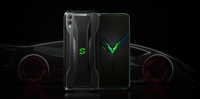 Comfortable Gaming Experience
Its ergonomic design provides the necessary grip for precise movements and the glass back dissipates heat away from your hands, ensuring that you stay comfortable even after playing for a long time.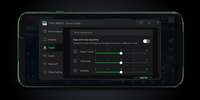 All-new Shark Space Gaming Ecosystem
A flick of a switch is all it takes for the Android interface to be transformed into a customised gaming hub. Your games are organised instantly and RAM is cleared, maximising gaming performance.
Game on the Big Screen
You can play your smartphone games on your TV's big screen in HD quality using the Black Shark Type-C to HDMI cable.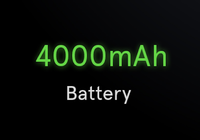 Uninterrupted Gaming
Thanks to its 4000 mAh high-capacity battery, and 27 W/4.8 A quick charging, the Black Shark 2 delivers up to 60% battery capacity in just about 30 minutes.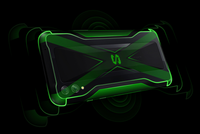 Smart Antenna
Its X-type antenna and 2 side antennas provide a strong connection no matter what your phone's orientation might be.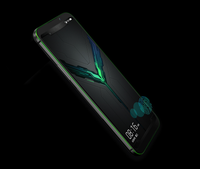 In-display Fingerprint Scanner
A quick tap on the fingerprint scanner is all it takes to unlock the gaming world, while also ensuring that your data is kept secure.