Description
Smash the gaming scores of your virtual gaming opponents like a pro and reach new levels easily by using the Asus ROG Strix GL10CS. It is equipped with the 9th Generation Intel Core i5-9400F processor and a 6 GB NVIDIA GeForce GTX 1660 graphics card. These features ensure a smooth and lag-free gaming experience. You can also customize the look via the Aura Sync feature and personalise the whole setup further with accessories that are compatible with it. To top it off, it also has a sleek and stylish design.
Product Description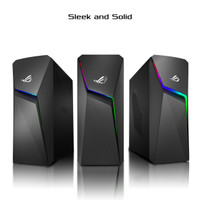 Sleek and Solid
The clean design of the chassis, which has an armor-inspired finish, makes it look aesthetically pleasing. The entire design is further accentuated by the sharp creases and smooth lines. Also, the Asus Strix GL10CS ensures that you don't have to dedicate a lot of space to place it conveniently. It does so by putting all the critical and essential components into the compact body. It also features an optional transparent side panel, so you can easily gaze through it and enjoy the illuminated internals. This illumination is caused by the glowing of 20 LEDs that are powered by Aura Sync.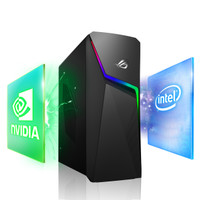 Performance
It comes with the 9th Generation Intel Core i5-9400F processor 8 GB of DDR4 RAM so that you can load games and other content faster. Also, it features a 6 GB NVIDIA GeForce GTX 1660 graphics card for a seamless gaming session. It also loads games and apps faster, as it comes with a 512 GB M.2 PCIe SSD. Also, it is equipped with an 8.89-cm (3.5) HDD expansion slot for future enhancements.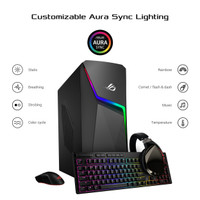 Aura Sync Lighting
It is powered by Aura Sync, which offers a wide spectrum of colors and effects. So, you can customize the look effortlessly. You can also view the internal components through the optional transparent side panel. These components are lit by the glow of the RGB lighting, which also matches the bezel on the front. You can give this entire setup a look that corresponds with your style by synchronizing the lighting with keyboards, gaming mice, headphones, and other peripherals that are compatible with Aura Sync.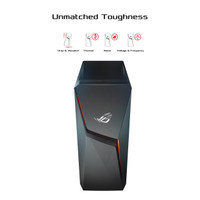 Tested for Unmatched Performance
The efficient performance delivered by the Strix GL10CS is the result of the numerous quality tests with which it has been subjected to. It has undergone drop and vibration tests, thermal tests, noise tests, and voltage tests so as to ensure smooth functioning.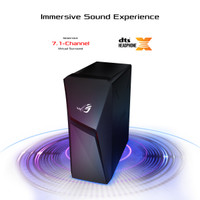 High-quality Sound
It is equipped with the DTS Headphone:X Technology, which delivers high-quality 7.1-channel virtual surround-sound through headphones. The audio quality delivered is similar to that of a home theatre. So, you can get an enjoyable and good-quality listening experience. It also comes with a built-in equalizer that lets you fine-tune easily. Also, you can access optimized settings for sports, movies, games, and more.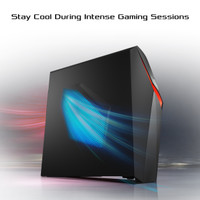 Isolated Chambers for Efficient Functioning
It comes with two isolated air chambers. The CPU and the GPU are located in the upper chamber. The lower chamber houses the power supply unit along with the HDDs. This design ensures that the storage drives and the power supply unit are not warmed up from the heat produced by the CPU and the GPU. These isolated chambers also ensure that the system receives a cleaner airflow.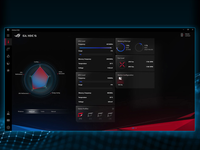 Unified System Control
It is equipped with the ROG Armoury Crate software. This software unifies the system and lighting controls, so you can access and control them easily. You can also manage up to four gaming profiles via its user-friendly interface. So, when you launch your favorite titles, these gaming profiles will load your preferred settings automatically.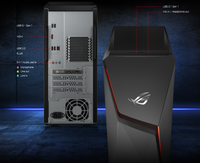 Connectivity
You can easily connect compatible devices to it, as it comes with USB 2.0 ports, Gigabit Ethernet and an HDMI output. What's more, the front features two USB 3.1 Gen 1 ports and an audio combo jack for greater convenience.
Safe and Secure Payments.Easy returns.100% Authentic products.